Crisis Services

Description
After more than 40 years, RCS advocates continue to answer the 24-hour rape crisis line in Fresno County [559-222-7273]. In the United States, twenty percent to a third of all women and sixteen percent of men are traumatized by sexual violence during their lifetimes. Receiving help for injuries from sexual violence can reduce risk for long-term post-traumatic stress, chemical dependency, depression, anxiety, suicidal ideation and a range of other health impairments. Because shame and social pressure stops most survivors from sharing their story,Ì_confidentialityÌ_is essential for sexual violence survivors considering whether to ask for help.
Business Address
259 N Blackstone Ave
Fresno, CA 93701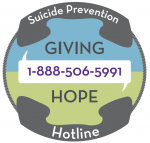 Description
The Central Valley Suicide Prevention Hotline is a free and confidential service provided by Kings View Behavioral Health and California Mental Health Services Authority.
Serving the following counties: Fresno, Kings, Madera, Mariposa, Merced, Stanislaus and Tulare Counties.

Category
1. Language: English
,
3. Language: Spanish
,
Abuse Prevention
,
Addictions
,
Advocacy, Civil Rights, Discrimination and Leadership Development
,
Age: 0-5
,
Age: 12-18
,
Age: 5-8
,
Age: 8-12
,
Child and Family Services
,
Clothing, Furniture, and Personal Items
,
Crisis Services
,
Cultural and Religious Diversity
,
Education
,
Employment
,
Food
,
Health
,
Recreation/Entertainment
,
Transportation
,
Volunteers
Description
Every day at thousands of community centers, high schools, middle schools, juvenile institutions, coffee shops, and local hangouts, YFC staff and volunteers meet with young people who need Jesus. Our focus as a movement is on multiplying fruitful and sustainable ministry sites across the nation and around the world.
Business Address
1401 Divisadero St
Fresno, CA 93721